BEYOND CHANGE: ACCELERATING TRANSFORMATION
Change is certain. Buy-in isn't.​
Creating buy-in is difficult work. Organizations that are good at change and transformation are able to quickly align people around new ways of doing things in response to opportunities or threats. Those who master it build resilience and an enduring competitive advantage.​
​
The future is uncertain​
Change can be small and simple, or it can be large and complex. It typically involves moving into an uncertain, unknown future. Transformation requires breakthrough change that involves fundamental shifts in thinking and action. Our transition to working f rom home during the global pandemic is an example of change. A company deciding to permanently implement a fully virtual working model is transformation.​
​
The four-phase journey​
Each phase of the change process requires a different focus and a corresponding set of tools to overcome the challenges and leverage the unique opportunities. Beginning with blueprints in the Envision phase to action plans in the final Execute phase, Beyond Change equips change leaders with an array of tools designed to accelerate change and transformation​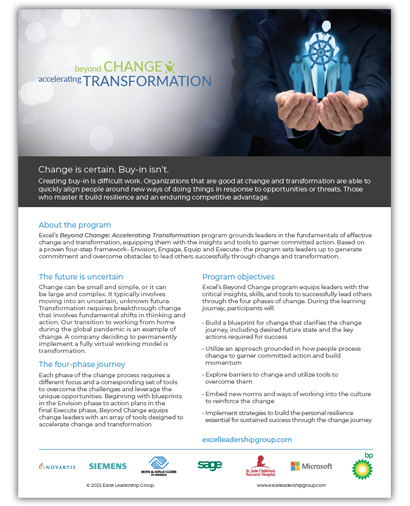 The Excel 4E Leadership Framework™
Built upon Excel's 4E Leadership Framework™, the Beyond Change: Accelerating Transformation program provides leaders with the skills and tools required to drive successful change initiatives. ​
​
Delivered in a one-day face-to-face format, or virtually via a series of four, 90-minute workshops, participants engage in a highly interactive, hands-on experience that turns theory into application, and energy into momentum. Participants leave with practical tools they can immediately apply in real-time to their change and transformation initiatives.​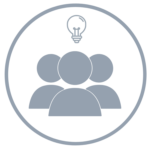 ENVISION
Scope the change – Successful change and transformation begins with a clear and compelling picture of the future.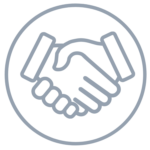 ENGAGE
Gain commitment – Meaningful change and transformation only happens when people are fully engagedand committed to success.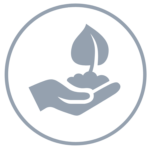 EQUIP
Build capacity – To successfully navigate change and transformation, people must have the right mindset, skills and tools.
EXECUTE
Drive adoption – Embedding the change into the culture ensures new habits are cultivated and behaviors become engrained.
The Partnering Process
Our engagement begins with a conversation to understand your unique goals and challenges. From there we design a solution that targets your desired leadership behaviors. Leveraging our extensive suite of skill-building resources, we offer a bespoke solution without the traditional expense of customization.
Delivery Options
Whether you want to deliver sessions internally or bring in ELG facilitators to take the lead, we design an implementation strategy that optimizes effectiveness given your goals and available resources.
Solutions for complex problems can begin with a simple conversation